After being married for 4 years and due to COVID and a busy schedule, we hadn't been able to take our honeymoon trip. Finally, last summer was the perfect time to make it happen.
So, as my fiancé and I were planning our honeymoon, we knew we wanted to go somewhere special, a destination that would allow us to relax, unwind, and bask in the joy of our recent wedding. After researching several possibilities, we finally settled on Mykonos, an island in the Aegean Sea known for its idyllic beaches, picturesque villages, and thriving nightlife.
Why Mykonos Resort Was the Perfect Starting Point for Our Honeymoon
When we arrived on the island, we were immediately struck by its beauty. The white-washed buildings, turquoise waters, and brilliant sunsets were a feast for the senses.
We checked into our hotel, a stunning hilltop resort, ideal for a Mykonos honeymoon, with panoramic views of the sea. Our room was not only spacious and luxurious, but it also boasted a private balcony that afforded us stunning views of the sea.
As we sat there, sipping our morning coffee or relaxing in the evening, we were treated to a breathtaking spectacle of the sun rising and setting over the glittering azure waters, casting hues of gold, pink and orange across the sky. It was a serene and unforgettable experience that left us feeling renewed and rejuvenated.
Our Mykonos Honeymoon – Blissful Pampering and Island Adventures
A standout moment of our honeymoon in Mykonos was our visit to the spa center. We had heard that Mykonos was home to some of the best spas in the world, and we were eager to experience the ultimate in relaxation and pampering. The spa was a sanctuary of tranquility, with soft lighting, soothing music, and the aroma of essential oils.
We opted for a couples' massage, and it was pure bliss. The masseuses were skilled and attentive, and the massage table was heated, making it even more comfortable. As we lay there, side by side, we felt all of our worries and stresses melt away.
After our massage, we sipped on herbal tea and nibbled on fresh fruit, feeling completely renewed. I truly don't know if it was the spa treatment that was so special, or the location and our mood, but that was the best massage we have ever had!
But our Mykonos honeymoon was not just about spa treatments and luxury accommodations. We also enjoyed exploring the island's many attractions, from its charming villages to its ancient landmarks. We visited the famous windmills, hiked along the coast, and took a sunset sail on a catamaran.
We, also, embarked on a delightful daily excursion to Delos, the mythical birthplace of Apollo and Artemis. Amidst the island's rich archaeological treasures and stunning ancient ruins, we reveled in the wonders of Greek history and culture, immersing ourselves in a journey of discovery and enlightenment. Everywhere we went, we were struck by the warmth and hospitality of the locals, who welcomed us with open arms and made us feel at home.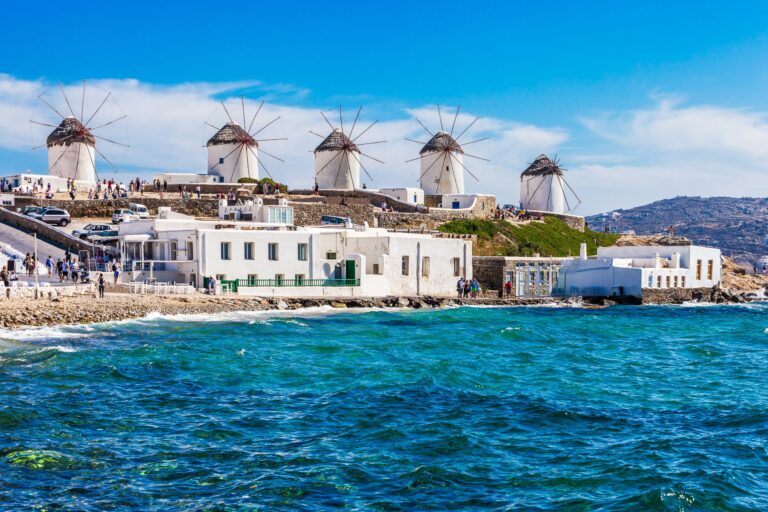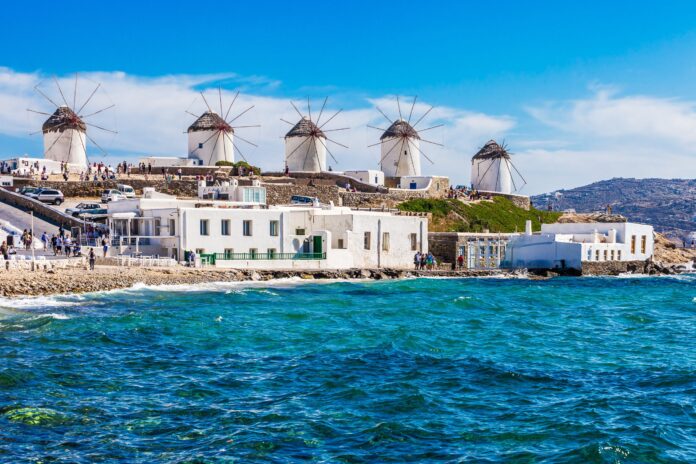 One of the most special moments of our honeymoon occurred on our final night on the island. My partner and I had reserved a charming dinner for two at Kastro's, a Greek restaurant known for its mouthwatering Mediterranean cuisine and breathtaking vistas of the Mykonos windmills.
The ambiance was absolutely ideal for fostering a sense of romance, intimacy, and deep connection.  We talked about our future together, our hopes and dreams, and all the adventures that awaited us. As the stars twinkled above us and the waves lapped at the shore, we knew that we had made the right decision in choosing Mykonos for our honeymoon.
As we packed our bags to leave Mykonos, we couldn't help but feel a sense of sadness and nostalgia wash over us. Our honeymoon had been everything we had hoped for and more – a magical and romantic journey filled with unforgettable memories.
From strolling hand in hand through the winding streets of Chora, to watching the sun set over the sea from our private balcony, to indulging in the most heavenly spa treatments, every moment had been a precious gift. We left Mykonos feeling grateful, renewed and more in love than ever before. This island paradise will forever hold a special place in our hearts, and we can't wait to return someday.