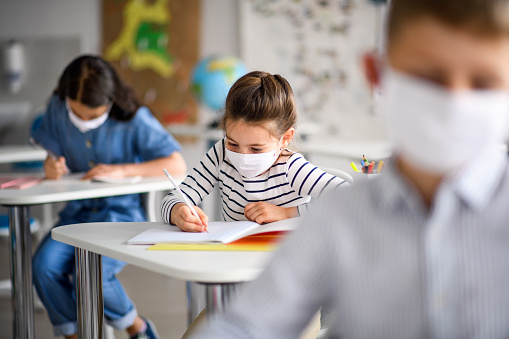 Deciding to move to a new country is a big choice, especially if you'll be bringing kids along. Many parents worry about the effect on their children's education, and whether they'll settle in a new country. That's why one of the first things that a potential ex-pat will think about is their child's schooling, and luckily, there are quite a few options available for children moving to a new country. While it varies from place to place, here are some of the options ex-pats are likely to have. 
British, American, or other international schools
Popular areas for ex-pats will often have international schools. While these are often called British, American, or French schools, they're open to local and ex-pat children from all countries. However, the lessons will be in the language of the country running the school, so in British schools, for example, the majority of the spoken language will be English, but there will usually be local language lessons to help kids integrate into the new country. 
International schools often offer an amazing education for young people, as they get to meet kids from around the world, without feeling like the odd one out. Enrolling your child in the International Senior School in Bangkok means that their education that started in their home country won't be interrupted. They'll follow a similar curriculum to home and instead of getting local qualifications, they'll aim for internationally recognized qualifications. This means that if they want to go to university in their home country, they should meet admission requirements. 
Some other advantages of international schools include:
You can be sure of a high-quality education

Children settle in sooner, as they can be taught in their native language

There are usually similar extracurriculars as they have at home, for example, sports

Class sizes are small, so they get individual attention
It's worth keeping in mind that international schools are fee-paying, although they usually charge less than private schools in the UK, Europe, or the USA. Some employers even offer a package that includes fees for your children, so consider your funding options before you make your choice.
Vocational courses
If you have older children who don't want to follow the academic route, then they may be interested in taking local vocational courses. For example, pursuing an automotive course could lead to a rewarding career as a mechanic or repairperson. Of course, it's important to do your research before you sign them up. Some courses are only available to those older than the school leaving age, and if it's an apprenticeship, then you may need to sponsor their visa. If you're seeking an affordable way of obtaining a reliable career make sure to visit best-trade-schools.net. 
Local schools
Expat children don't have to go to international schools as a default. Local schools are often an option, and if you're a permanent resident, you may not have school fees. The main downsides are that quality varies a lot. Many European countries have great schools, but in the Middle East and Asia, some areas are a lot better than others. Also, your child will need to quickly be able to pick up the local language. For very young children, this isn't a big deal, but as they get older, it becomes more complicated. Some ex-pat children may also find settling hard, as they may be the only non-local child, so need to adapt quickly.
Homeschooling
If you can't choose a school for your child or are on the move a lot, then homeschooling can be a good option. It means your child doesn't have to keep moving schools, and they can get a great education at home. However, the legality of homeschooling varies from country to country, and different areas can have different requirements. For example, home schooling is legal in Thailand, although you'll need to submit an application and have an annual assessment to ensure your child is being properly educated. But in countries such as Spain, homeschooling is technically not legal and children must register in a school.
As a parent, you want to do the best for your child, and that's not always easy. One of the most important parts of childhood is a good education, and if you move overseas, it's important to find the right place to continue their schooling, so they can learn everything they need.