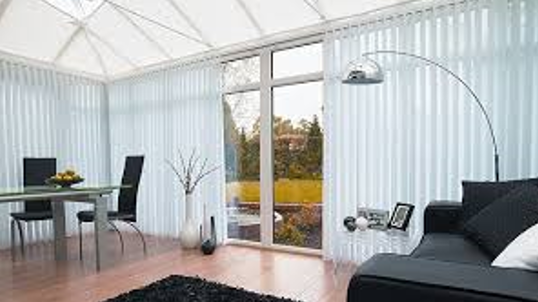 Conservatories are lovely spaces that add value to any house. Even if it's chilly and wet outside, they enhance the length of time you may spend in your garden or patio. They also make growing plants inside in places with short growing seasons easier. They also provide a lovely place where you may host friends, read, or just relax with your family.
The difficulty with conservatories and related buildings like sunrooms and orangery is that they may be difficult to maintain a consistent temperature.  They heat up in direct sunshine and are very cold in the winter. Conservatory blinds are an excellent method to regulate temperature and make your conservatory a year-round destination. Most importantly, they may assist you in conserving energy and lowering your heating and cooling costs.
When it comes to controlling the temperature in your conservatory, it's important to keep it distinct from the rest of your house. Not only can correctly place energy-efficient window coverings save you money, but they will also improve your privacy. Choosing conservatory blinds can be very overpowering.
Here are some options that can be best for your type of conservatory:
Roller Blinds
Roller blinds for your conservatory's side windows are a sensible choice. Choose from hundreds of beautiful fabrics to complement the basic design. Choose a bold or neutral plain, attractive pattern, or a functional option with a sun-reflective surface.
A Perfect Fit frame is a great option for a tidy solution. They're ideal for the sides of conservatories since they don't need to be drilled; instead, they simply clip into each window frame for a streamlined look. You may still select from our whole fabric collection.
Vertical Blinds
Vertical blinds are fantastic. Because of their unique manner of covering a window, they're highly versatile, competent, and helpful. If you haven't seen a vertical blind before, first and foremost, welcome to Earth where have you been?  Vertical blinds are a common window covering that primarily comprises a head rail and vertical fabric strips known as louvers. The louvers hang from the head rail, which runs the length of the window. They are dragged across the window by ropes, and they may also be slanted.
Perfect Fit Venetian Blinds
The exact fit frame has been used to create a stunning Venetian blind. With the perfect fit frame, we can provide a blind that fits tightly against the windows, with any potential gaps at the sides neatly filled by the frame. These perfect fit blinds simply slot onto special brackets that slide in between the glass and beading of your window. These perfect fit blinds simply slot onto special brackets that slide in between the glass and beading of your window. It is simple to install Venetian blinds in your conservatory.
Perfect Fit Pleated Blinds
These are the finest choice for conservatory blinds since they were created specifically for conservatories with their minimalist style and sun coated materials. Perfect fit blinds are meant to lie on the Upvc window's beading and frame the fabric, giving them a seamless appearance.
These pleated blinds may be installed without drilling holes in the walls, with no equipment required, and can be installed in minutes. Perfect Fit pleated blinds function in the same manner as traditional blinds once installed, only they include a handle to raise and lower the blind instead of the chain or rope you're used to.
Pleated blinds have a 'honeycomb' structure, which is made up of a succession of hexagonal cells that are connected at the top. When your blind is raised, the cells flatten out. And when it is closed, the cells open out. Trapping pockets of air between each area to help insulate and soundproof your home.
INTU Venetian Blinds
Installing in conservatory INTU blinds are really the ideal fit. INTU blinds have a head rail and a bottom bar. They come in Pleated blinds, Roller blinds and Venetian blinds. With no holes to drill or screws to install, and no wires dangling down, make them child-safe. INTU blinds have a head rail that sits on the face of the window at the top, rather than a four-sided frame. Two discrete side channels span the length of the window, maintaining continuous tension on the blind. INTU Blinds, created by competitor Eclipse Blinds, provides many of the same characteristics as Perfect Fit Blinds.
Vision Blinds
Vision Blinds are becoming a more common choice in conservatories. They have modern designs that softly filter the light while preserving a view and allowing for seclusion in your home or workplace. The beautiful metallic, gorgeous sheers, natural wood woven textures, and a popular variety of subdued tones in the Vision fabric line would look fantastic in any conservatory.
Conservatory blinds are unique in the way that they're dressing in a space. These blinds make your home attractive and cool.