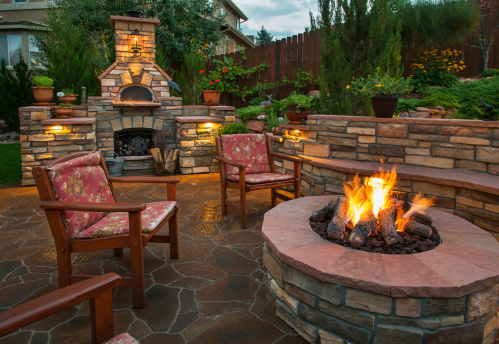 The COVID19 pandemic forced homeowners to stay indoors for the last two years. Thankfully, lockdowns and stay at home orders are easing across the country. That's why so many homeowners are actively spending on items that improve their outdoor spaces.
There are numerous trends/statistics that suggest that the post-pandemic era will be focused on outdoor living spaces (yards, patios, etc.). According to a recent survey, 90% of homeowners agree that their outdoor living spaces are more valuable than ever before.
What are they doing to improve their outdoor spaces? They're upgrading their outdoor living areas by investing in decorative and functional appliances and furniture items. That's why the demand for backyard items like firepits is skyrocketing.
However, many homeowners don't know how to use firepits safely and effectively. A key responsibility of being a firepit owner is ensuring its safety. Using high-quality covers that provide protection for your firepit is a key part of this duty.
The Importance of Using Covers to Protect Your Firepits
Fire pit covers are must-have accessories for homeowners that want to enjoy safe backyard burning sessions. These covers keep rain, pests, and debris blown by the wind (e.g., tree leaves) from filling up your firepit.
These covers also prevent people from falling inside the pit. In case someone steps on the fire pit cover, the force of their feet doesn't damage the firepit's components. These covers are typically made of weather-resistant materials.
Covers made of durable, outdoor fabrics keep rain and strong winds from damaging the firepit. These covers are also thick enough to not sail away whenever there are heavy winds or storms. Fabric covers are also portable and easy to store.
How to Get the Right Covers for Your Firepit?
The "right" cover for your firepit will protect it from the elements throughout the year. To ensure the cover you purchase is the "right" one, take the following steps –
Material:

 Make sure that your fire pit cover is made from UV-resistant and water-resistant fabrics. If you store your firepit outdoors, it will experience a lot of sunlight damage. A UV-resistant cover will prevent this damage. If you store your firepit indoors, moisture may damage its interior parts. A water-resistant cover will prevent moisture damage in your firepit. Also, make sure that the cover has high-quality, seamless stitching. Stitches in the right place make these covers easier to install.

Ease of Installation:

 Look for covers with flexible tie-down options. The fastening system of your cover should be easy to master. The size of the cover should match the size of the firepit.

Custom-Printing:

The latest firepit covers in the market come with custom-printing options. Use these options to ensure that your cover matches the décor of your patio or backyard. Custom-print brand names, logos, and other design elements on your covers to make them appear as aesthetically pleasing as possible.
Look for sellers that have extensive collections of covers specially designed for firepits. Use their covers to preserve your firepit and make your backyard space safe and clean!