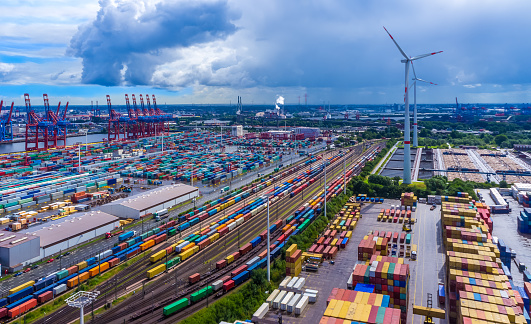 The world of logistics in the UK has come on leaps and bounds over the last decade, more so, as time passes due to the various technologies available for the logistics firms to take advantage of. Not only is it great news for the logistics companies, but, it's also great news for their customers because, it means that, they ultimately reap the rewards – efficiencies which, in turn, should mean, more customers, improved service, so on and so forth;
More than just delivery services
If somebody once told you that your delivery company would be able to offer you a bespoke level of service at a fair price, guaranteeing that your goods aren't in any way damaged, including the packaging or the box you'd have probably thought they were barmy. 
The bottom line is that the logistics world has had to change due to the ever-increasing demands of customers, provoked by the technologies that help them buy something in a few seconds. They want it there just as quickly but, with a bigger and better service. A double-edged sword really, but, if the logistics firms can keep up with the demand, then demo Logistics from Rhenus HighTech is just the tip of the iceberg when it comes to features and benefits offered to consumers but, what's it all about?
Demo equipment management and stock control 
The leading specialized logistics businesses offer a wide range of logistics services, it can fulfil their clients' turbo charged needs. Some offer unique services; some offer something different in the way that they deal with their customers and a few promise to cover all bases. They have a team of staff who are highly educated experts who are always available to assist you with your needs. They can provide high-quality asset recovery, pre-staging, high-tech warehousing solutions, and other critical services like demo equipment management.
As you will know, if you are in the business of offering equipment demos, the management of the whole process is an important area that most businesses would jump at the chance of getting some additional, professional help with. Demo equipment management services are provided for some of the world's largest manufacturers, who provide goods in a variety of HealthCare-related industries, such as Life Care Solutions and Ultrasound systems.
The state-of-the-art facilities can store and maintain customers' demo pool inventory. The customer's marketing representative can then make appointments with various prospects who are interested in a demonstration, everything else will be down to the logistics company to take care of.
Equipment for demonstrations
Whilst the demo technology is stored in their state-of-the-art facilities, it ensures that the customers' products are kept safe and secure, with access to pre-staging and configuration rooms where their specialists can conduct value-added services if you want them to.
As an example, when it comes to the medical industry, the equipment that is being transported will probably be very delicate and very technical, needing to be calibrated on-site. Arranging something like that by yourself could be an absolute nightmare, especially if you are moving the kit from one location to another. 
Not only will you need the tech to be uninstalled and made safe for transportation, transported safely, and stored, you'll also need the final mile delivery service too!  
Specialized vehicles and equipment
The leaders of the logistics world do what any wise company should be doing, they invest in the most advanced specialized handling equipment available. Not only that, they have the equipment, knowledge, and ability to conduct sophisticated handling procedures, whether it is using power pushers to carry heavy items up slopes and ramps or stair robot robots to stroll products up sets of stairs, yes, they use robots!
The vans that these companies use for equipment, transportation is specially built to move various sizes of gear safely, they offer a collection of specialised transportation vehicles ranging from tiny vans to enormous trailers, some are 40 feet long! All of their bigger vehicles feature expanded tailboards, air ride suspension for added protection, and specialized load-lock mechanisms to ensure maximum security.
The standards fitted with their fleet of vehicles are unique and have been established throughout the course of years of providing services to a myriad of different clients. When you see their big trucks, some of which feature retractable roofs, remove the need for product disassembly before shipment, you can be sure that it will be a 'jaw dropper'.