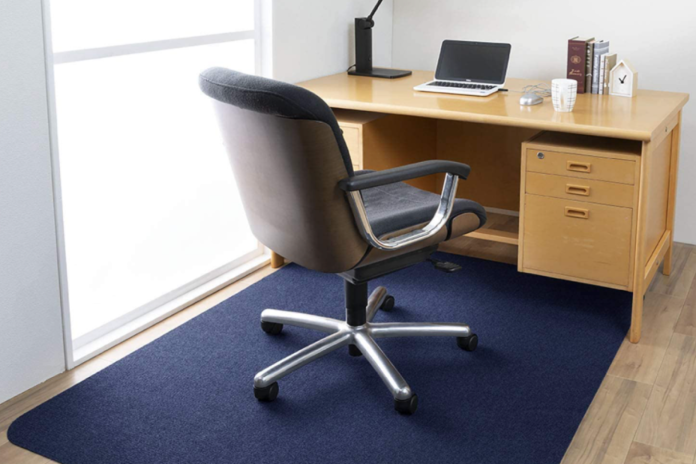 Were you aware that many flooring manufacturers will void warranties unless you use chair mats? If you weren't, then it's something to think about!
Without the presence of a mat, any type of moveable office chair can cause havoc. This is especially true in a communal corporate office environment where chairs are always rolling around.
In this space, without any transitional surfaces to shield the floors, simple everyday tasks that involve a worker moving about in their space could be made more difficult. It could also cause significant damage to expensive hardwood and carpet flooring. As a result, chair mats are extremely functional and useful tools to have in an office.
Let's dive into the other reasons why office spaces need a chair mat.
For Improved Mobility
One of the main reasons an office space needs a chair mat is that they make the process of moving around that much easier. Simply put, chair mats provide lots of flexibility to roll around in office spaces.
A chair mat works by leveling the surface of your flooring, allowing the chair to move around within the confines of the mat without any obstacles in the way.
It would take much less effort to roll your chair on a specifically designed mat than it would on a carpet or laminate flooring, where you have little to no control over the movement of the chair.
Chair mats will also prevent any type of desk chair from unnecessary movement. If you need to sit down and type up a report without budging a single inch from in front of your screen, but still need to stretch your legs, a chair mat will keep you centralized.
For Your Physical Health


There's nothing more frustrating than rolling or moving your chair over a carpeted floor and getting your wheels stuck multiple times.
Now if you imagine having to do this multiple times during the day, things can get disruptive pretty quickly. That's not to mention the potential for back pain, leg strain, and even muscle cramps to occur!
In this situation, the answer is to purchase a high-quality chair mat from organizedworktips.com. This item can help to reduce the number of muscular injuries that you sustain while still granting you quick mobility around your office space.
To Extend The Lifespan Of Flooring
One of the biggest reasons people pick up a chair mat is to protect flooring and extend its lifespan. Whether you have hardwood, carpet, or laminate flooring, a chair with wheels can do a number on the surface they sit on.
Even if your chair doesn't come with wheels, it'll still take a beating from you getting up and down repeatedly throughout your workday.
Without a chair mat, rolling office chairs can cause lots of damage to flooring surfaces. These mats can protect flooring from scuffs, spills, indentations, and other marks.
To prevent this from occurring, you must buy a chair mat that has been designed to suit the flooring you have in your office space. It must have slide-resistant qualities and possess some gripping features to keep your chair still while you work.
For Protection Against Spills And Stains
A chair mat is all about protecting your flooring from damage, especially spills and stains.
These flooring issues can occur in a variety of situations, whether you've spilled some coffee during your daily caffeine fix, or have innocently dropped some of your brightly colored lunch onto the floor.
By having a chair mat in your office, you are protecting the floor underneath you from being tarnished by all types of spillages and stains. The mats are usually pretty easy to clean off, too, which means cleaning them won't cause much disruption to your workday.
Not only will it give you peace of mind but it could even save you some money as you won't need to constantly replace the flooring!
To Improve The Appearance Of Work Space
Claims have been made that an organized workspace can enhance worker productivity. While there's no official evidence to back up these claims, it's easy to see why a chair mat is a necessary item to have in any office space.
Aside from their incredibly practical uses, chair mats also help to make any office space look much less cluttered.
Chair mats are great at ensuring user safety. But they are also excellent for adding aesthetic value to any workspace.
There are many mats out there to choose from that can be tailored to match the theme or decor of your space. You will also be able to find mats that can blend in with the flooring of your office space so that only you know it is there.
For Enhanced User Safety
Have you ever heard of any major accidents involving desk chairs in an office? No, we didn't think so.
Sustaining an injury solely caused by an office chair is not an impossible thing to happen, but it's very unlikely to occur. The most common reason workers will fall from these chairs as they move around the workspace is thanks to uneven edges or hidden obstructions within the flooring.
Chair mats are a useful solution to this problem. These products sit comfortably on top of the carpet or laminate flooring underneath them to provide sturdy rolling space for you when it is necessary.
Summary
Chair mats are an extremely useful item to have in any type of office space. Not only do they make the office look neater, but they are also comfortable and enable employees to move about without the usual resistance of flooring.
These mats can blend with existing decor while keeping the floor from receiving damage caused by spillages or stains. As chair mats are in higher demand than ever before, you can find them in a variety of designs, qualities, and colors to suit your personal preferences.
Overall, office spaces need chair mats to enhance the safety of all workers, protect the flooring, and free up mobility around the space.