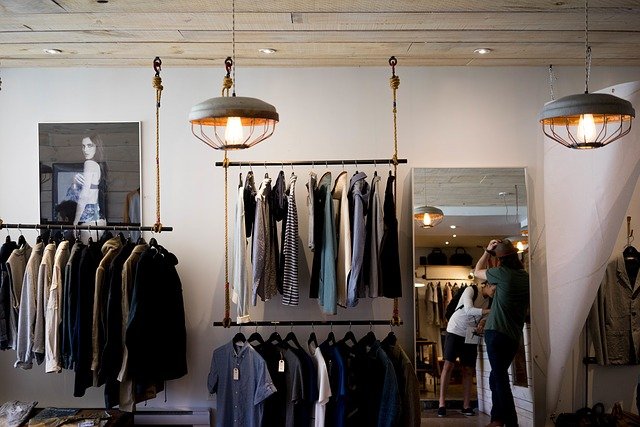 There are many reasons why you would want to hide your belly or wear clothes which doesn't expose it. It is not that ladies with big bellies are ashamed of their bodies, but sometimes women want to show the world that it is okay to have normal bodies, and there are still many fashionable ways to go about it. You don't necessarily need to starve yourself to shrink your tummy to hide it because you can now simply conceal it with clever fashion hacks. It is great that you feel like breaking stereotypes and celebrating your curvy body. However, sometimes you may not want it to look too obvious or show in a way that looks slouchy. If today is the day when you don't feel like doing a tummy tuck-in around too many people, then get creative and take inspiration from the following easy-to-do tips. 
The simplest way to let go of your tummy and not make it obvious is to wear less clingy clothes. Let's admit it, wearing tight clothes is not always flattering but rather an assault on our breathing. So, go for looser tops and longer shirts paired with a tight bottom to balance proportions. You can try a billowy top or an off-the-shoulder tunic sweater with darker hues combined with not-too-tight pants. Choose to wear hip-length tops instead of crop tops as they'll make your belly bulge. You can even go for a complete look with tummy tucking pants, a tunic top, a bulging necklace, and lug boots. 
Curvy ladies often go for plus dresses which look flattering as well as hide all that belly fat. Wouldn't that be a dream come true? Well, there is a name for this miracle, and it's called the ruched design. Ruched or draped dresses are genius when it comes to wearing high-end clothes which doesn't draw too much attention to the stomach area. You can even choose tops that have some ruching so that they skim over the stomach area. Go for a crossover top or a draped blouse with a flattering V-neck. 
High-waisted everything, whether it's shorts, skirts, or pants, is your best friend. High-waisted clothing is a gift for heaven for ladies of all shapes and sizes. It offers a universal way for every woman to look sleek, chic, and stylish regardless of their bulges. High-waisted pants and shorts cover your mid-section so well that they can instantly smooth out every outfit. The style is not only a holy grail for curvy women, but it is trending this season especially paired with statement pumps and a loose jacket draped across the shoulders. 
Whether it's tucking the waist or your lower stomach, shapewear is a live saver for curvy women. It works under almost every outfit, but most women lose their comfort and breathability while trying to make shapewear work all day. Do you need one in your closet? Definitely! But do you need all of them? No! There is different shapewear available according to each body shape, and each works differently for various areas of the body. For instance, high-rise shorts work great to control the belly and the thighs, but if you want that ultimate Kardashian curve, then a bodysuit will serve you well. 
Don't Wear Sheer Or Thin Fabrics
While it's the general notion that thick fabrics or fabrics clustered around the tummy area don't do anything to hide it. However, the same goes for extremely thin or sheer fabrics. Wearing thin fabric to hide your belly will do you no good because it will add more volume to the area than make it look thinner. For instance, a rayon jersey is a type of fabric that works well for draped or ruched styles but doesn't stretch much across the curves. Cotton and linen are also great choices for fabric if you don't want your clothes to be too clingy or heavyweight. 
Wear Leggings With Asymmetrical Tops 
A simple way to hide your belly is to draw the attention away from it, and an easy way to do it is to go for asymmetrical tops or dresses. Asymmetrical vertical lines especially don't make your belly look voluminous but creates a rather sleeker illusion. Pair your asymmetrical tunic sweaters and tops with nicely fitted leggings or jeans, which tuck the tummy right in. You can pair a lovely tunic top with a light, long cardigan or a shorter denim or leather jacket. 
Layer Your Clothes Wisely
Layering is an art because if done wrong, it can make even a petite lady look bulky. Layers tend to get bulky; everyone knows that, but if you layer smartly, then you can not only hide your belly but also look smoothed out. For instance, if you are wearing a loose top or drapey blouse, you should go for longer and thinner cardigans, preferably hip-length or up to the waist, to balance the layers. Layer with a contrast to balance the proportions, such as going for a darker outwear and a lighter shirt with colorful shoes. 
Today's world is all about inclusivity and celebrating women as they are. We don't always have to look perfect, glamorous, and sleek because we come in all different shapes and sizes. However, there might come a time when you just don't feel like carrying yourself or showing your curves and belly, but that doesn't mean you have to compromise on style. Take a breather and get creative with our above tips if you want to go for looks and clothes which can hide your belly and still make you look fabulous.