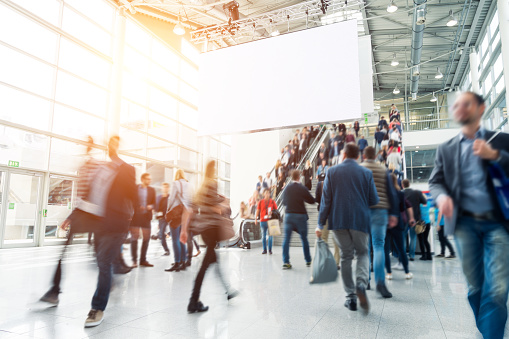 Tradeshows and other in-person marketing events were practically obsolete for the past two years. In this period, promoting a brand meant participating in Zoom meetings and hosting videoconferences. Naturally, these promotional efforts were highly ineffective. Thankfully, in 2023, face-to-face business events are back.
According to a recent study, 60% of event organizers are focusing on hosting live, in-person tradeshows. Trade events and shows are making strong comebacks across the world and across all industries. Is your company ready to attend these face-to-face business events? At first glance, marketing at tradeshows can seem like a difficult and expensive endeavor.
However, savvy marketers only need to use a few promotional tools to make their brands stand out at these events. These tools are cheap, eye-catching, and designed to attract the eyes and attention of event attendees. Here are four promotional tools that can make any brand stand out at tradeshows and other marketing events.
Promotional Gifts or Merchandise
Everyone loves receiving promotional gifts or merchandise. Even if the actual item isn't of much use, event attendees always appreciate receiving free branded gifts. Brands that give away these gifts generate goodwill amongst the tradeshow attendees. Here are some items that you can custom-print with your brand details and give away as free gifts at tradeshows-
Custom-printed stickers

Apparel (caps and t-shirts)

Health products (wipes, sanitizers, etc.)

USB cables

Phone covers

Pens

Branded mugs

Tote bags
Custom-print these low-cost items with your brand logo and details. You can also attach custom-printed stickers to these items. Giving away these items for free will make your brand name super-popular at tradeshows.
Portable Banner Stands
Banners are "must-have" promotional items at tradeshows and marketing events. Well-designed banner stands can help you introduce your brand to the attendees in the best way possible. The latest sellers of these banners offer total design customization control to the buyers. Buyers can custom-print any type of high-quality artwork on their banners.
Use well-designed artwork to make your brand's banners stand out at tradeshows and live events. These banners are also lightweight, easy to install, and easy to move around. For example, retractable banners are foldable and can be installed within seconds. Here are the different types of banners you can purchase for your upcoming tradeshow –
L- banner stands

X- banner stands

Retractable

Table stands
Custom-Printed Business Cards
Your marketing tools shouldn't be the only items promoting your brand at a tradeshow. Brand leaders, executives, and managers can get involved in the promotional efforts by handing out custom business cards to attendees. A well-designed business card can entice attendees to contact your brand after the event.
Marketing flags are low-cost promotional tools that several brands use at tradeshows to draw attention to their booths. These flags come in various shapes (feather-shaped, teardrop-shaped, etc.). That's why they're so eye-catching. These flags can also be custom-designed. They're cheap, so brand leaders can easily order hundreds of them without spending too much.
These four marketing tools are efficient enough to generate amazing brand awareness for your company at your next tradeshow!