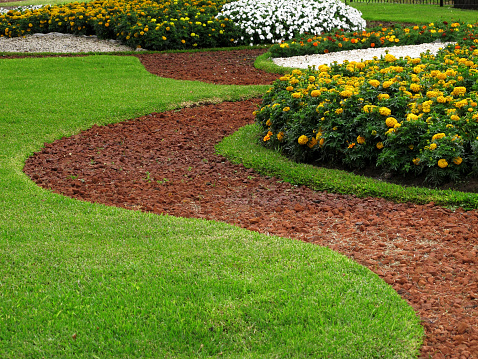 You might find yourself at a point wherein you don't know what else you could add to your garden, yet it doesn't seem complete. This can often be due to a lack of finishing touches that really tie a space together. Without these elements, your garden can look unfinished, resulting in a mediocre feeling. If you're someone who takes a lot of pride in your garden and finds yourself spending a significant amount of time there, this isn't a feeling that you want to be experiencing. Therefore, you might consider a handful of finishing touches to renovate your outdoor space. 
Lawn Edging
Did you know that the reason that landscaped gardens look so beautiful is down to the neat trims and edges? This can only be achieved via plastic and metal lawn edging. This is because sections are created, making the outdoor space very easy on the eye. This appearance of organization is very pleasing to the human brain, conveying that everything is in order and that the space is complete. In particular, the lawn can seem quite messy due to mud and uneven strands of grass, which is why lawn edging is so effective in tying the space together. 
Color Schemes 
It's likely that every room in your house will have a color scheme; however, when it comes to the garden, we often neglect this. When it comes to designing an outdoor space, the same things should be considered as if you were designing an indoor room. For example, if you have a slate roof, you can incorporate this slate color into much of your garden. Similarly, if you have a red brick house, red brick can be brought into multiple aspects of your outdoor space. When it comes to a color scheme, your shades don't always need to be closely related; sometimes a pop of color here and there can be very effective. 
Match Garden Accessories to the House
In re-using the example of the red brick house, you can match your garden accessories to your house. For example, terracotta plant pots are the ideal accompaniments for red brick houses. With this being said, you don't have to stick rigidly within these guidelines, and mish-mash pots can also be effective. As long as you have one shade to tie your array of colors together, your garden is sure to look finished. This tie-together shade should be the one that matches your house. Sometimes, you won't actively go looking for a garden style and one will just fall into your lap; this can oftentimes be the most effective. 
Echo
Gardens are all about colors, so dominant colors within your outdoor space should be echoed using accessories. For example, if you have splashes of red running throughout your flowerbeds, you might tie these together using a red vase in the center of your garden table. Otherwise, you might section off your garden using colors. As previously mentioned, sectioning is the best way to appeal to the eye as it creates an illusion of effortless organization. On top of this, your eye will be drawn to certain colors, so it's important to highlight these in the most effective way. 
Tidy Loose Ends
Whether it's chipped paint, a hanging nail, or rusting metal, each of these will make your garden look unkempt and unfinished. Even if these don't immediately seem like they stand out, you'll notice the world of difference upon amending these issues. Making your garden appear finished is all about the finer details that don't immediately stand out. So, be sure to refine anything that isn't quite hitting the mark.