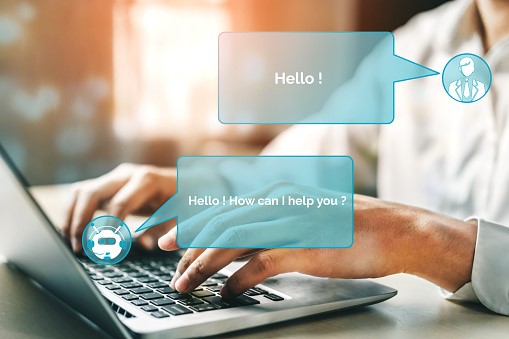 When we think of humans and technology in today's world, we see how advancements in the technological sector create more ease for users. It also points at how digitally-enabled businesses can get the most out of these advancements, making them robust and resilient than ever before.
From the devices we carry to the machines we operate; we see technology drastically transforming the ecosystem around us on almost every horizon of our lives. Perhaps, this demonstrates the true potential of what it is like to live in the digitally enabled world. And when we think of different technological alterations and headways in multiple areas of life, we couldn't resist talking about the powerful chatbots that bring innovation to the technologies we use.
Whether it is Amazon's artificial intelligence-led chatbot Alexa or the mere E-commerce chatbots that we usually use on different websites, these automated responsive systems now serve hundreds and millions of businesses around the world. They cater to the diversified needs of business models, ranging from customer engagement, sales, marketing, and service delivery. As of now, the current market position of chatbots is somewhat $17.17 billion in 2023, and it is all set to reach a whopping $102.29 billion by 2026, according to Mordor Intelligence.
Seeing the substantial rise of chatbots and the wonderful benefits they offer to any digitally enabled business structure, enterprises of all sizes following a digital pathway are integrated chatbots in their systems to leverage the exponential benefits.
Moreover, the work of chatbots is awe-inspiring. Be it on a website or smartphone, chatbots work amazingly. They receive a simple query, identify keywords, process the user intent, and respond quickly from the tons of intents already created in the system. In addition, they also add the answer from the prior chats to their database to enhance their answering functionality.
How To Create a Chatbot for Your Business? – A 5-Step Guide
Whether you wish to create a rule-based chatbot or an artificial intelligence-led chatbot, the creation of each almost consists of similar steps. These steps are explained in a 5-step strategy that you can follow and leverage from the substantial benefits of chatbots in your business.
Understand Your Business & Requirements
Before you kick start your journey of creating a chatbot for your digital business by hiring a web developer or a mobile app development company, it is essential to come up with an idea to state the basic requirements of your business to achieve the desired results.
Here it is imperative to understand your goals based on the products and services you offer. Doing so will make you understand the business size and the experiences you wish to deliver to your customers. Moreover, based on your requirements, the technology stack and platform selection will also differ. Here, to give you a clearer view of what it's like to understand your essential requirement, these instances might help you understand it more appropriately.
The selection of creating a chatbot can be for external or internal stakeholders. For example, if you wish to give a swift and seamless communication flow to your customers. Or it could be for the visitors to communicate with your representatives whenever they visit your website or mobile application.
What do you actually want your chatbot to do, i.e., from giving end-to-end answers to questions, present something, or ask for something in particular related to your product or service?
Moreover, you can also look for integrating any special or customized message if you'd like.
A Custom-Made or a Ready-Made Chatbot
Since you've moved down from deciding your objectives and goals, it is essential to determine which type of chatbot would best suit your business model. It could be a choice between a custom-made chatbot or an already-made chatbot. Selecting between the two types entirely depends on the nature of your business and the features you wish to implement.
Custom-made chatbots are made on-demand, catering to the needs of intricate business models. These chatbots are designed on machine learning and artificial intelligence-based model to cater to the diverse needs of your business. For creating this, developers must require to add personal features to answer the miscellaneous questions. But not to forget that these models are robust and might demand time to complete with a lot of unique technology stack that comes with it for deploy the desirable results.
Another quick-to-install option is a ready-made chatbot that goes impressively well with any website or any social media handles. They are ready to use available on the marketplace for development teams to integrate it within the website or an application. It has a drag and drops feature that offers suitability for several businesses, particularly small or medium-sized. But since they are ready-made chatbots, their functionality is somewhat limited.
Selecting Chatbot Technology Stack and Framework
If you wish to create a chatbot for your business, several frameworks and technology stacks are involved in the creation of a high-performing chatbot. However, you don't have to look for all the others because we are bringing the best chatbot frameworks that professional development teams are using.
For quality and high-performing chatbot creation and deployment, IBM Watson is an excellent choice. It guarantees an omnichannel user experience.
Amazon Lex is amongst the most sought-after frameworks for the creation and deployment of chatbots. It is a product of Amazon Web Services that supports Natural Language Understand and Automated Speed Recognition.
Wit.AI is another top-of-the-line framework that helps create a chatbot. It leads the development teams in building, testing, and deploying chatbots for free.
Introduced by Microsoft Azure, Microsoft Bot Framework helps in building quality conversational AI chatbots for businesses of all sizes.
Botkit is a part of Microsoft Bot Framework that has an open-source chatbot architecture that offers absolutely free code resources, libraries, and plugins to cater to the diversified needs of businesses.
Check For the All-Round Methodical Stipulations
As you move towards the final steps of the creation of your chatbot, checking for the all-around methodical stipulation is one of the most incredible ways to carry the procedure. Here, the approach for development depends on the development cycle. Check for the two result-driven methods;
The first and probably the preferred option for a developer is to integrate everything while the creation is in the middle phase. Either a development team can choose a desirable technology stack and built a chatbot according to it. Moreover, during the first step, they can test or run it for extensive questions and answers to check its functionality.
The other step is to create an approach for the already developed site or application. Here the developers can customize messages, build a required chatbot, connect all the artificial intelligence functionalities, test or run the chatbot, and finally bring it in as an option to update and leverage from it.
Testing And Deployment of Chatbot
The final step comes to test and then deploy your chatbot, here professional developers conduct three different steps to conclude and deployed your chatbot.
The Chatbot Must Be User Friendly
As we move towards the final step of chatbot creation, it is pivotal to ensure that your chatbot must not disrupt the user experience. The display of your chatbot must be appealing and not be in a way that it continuously pops up all the time.
It Must Be High-Performing and Swift In Results
Be it for popup time or conversational time, your chatbot must be agile to ensure responsiveness and functionality.
The End Result Must Be Relevant & Accurate
The last part of your testing must be to evaluate the relevancy and exactitude of your chatbot. Try putting in some random questions and see for the answers that it shows. If the answers are relevant, accurate, and correct as per the searches, your chatbot is ready to demonstrate its wonders.
Top 10+ Best AI Chatbot for enterprise customer service
The Final Words
Chatbots are the perfect integration of artificial intelligence, natural language processing, and machine learning to create a high-performing feature that evolves the processes to the next level. Moreover, we can also understand the revolution it is bringing in the market and the ease it is creating for the business world in today's competitive market. Hence, we can understand the fact how chatbots are defining the next level of technology and will provide more accessibility to the users.