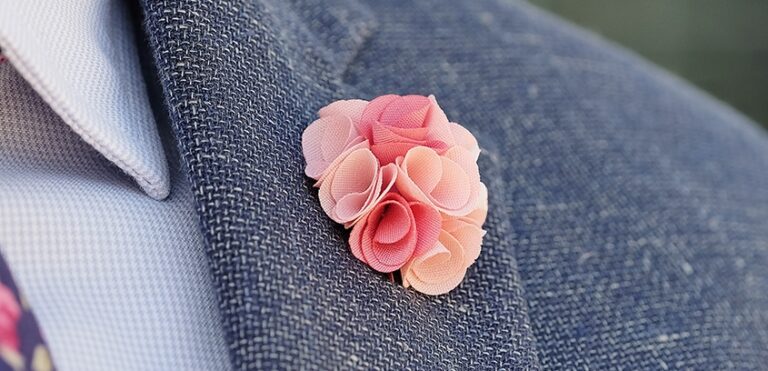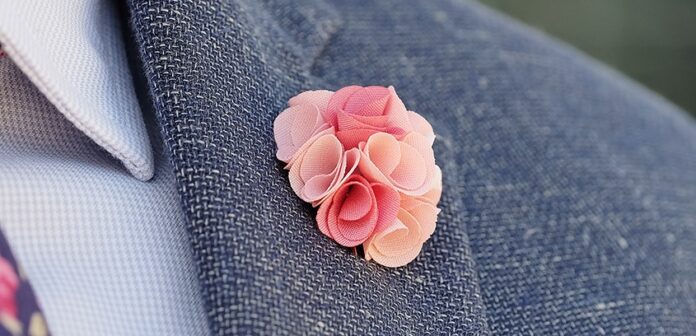 Flower lapel pins were traditionally only worn during special occasions such as weddings and proms, yet have now become a stylish way to enhance everyday garments. Accessorizing your jacket with the perfect floral pin will give it an elegant touch without being over the top. But make sure to wear it correctly or else you won't get that extra bit of flair!
What Is a Lapel Pin?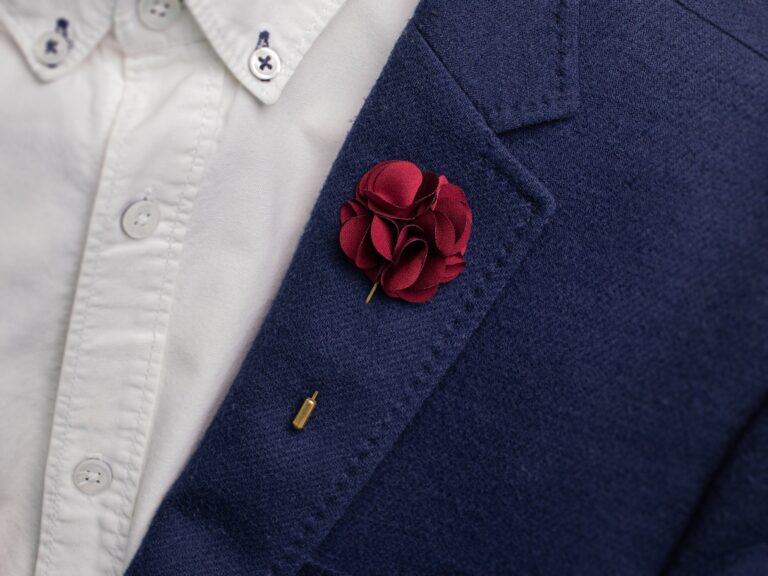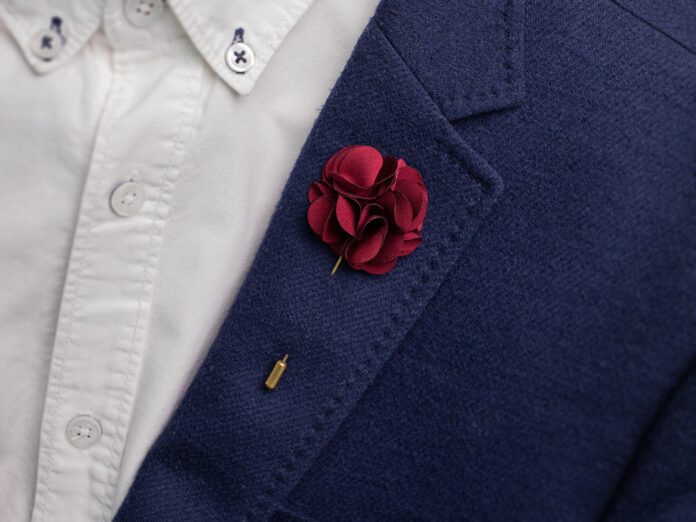 Lapel pins are a go-to choice for anyone looking to accessorize their clothing with something unique. Generally, these pins consist of an ornament that attaches to the lapel using a post and closure system. From fabric flower designs to those made from fresh or metal materials; you'll find tons of options when it comes to creating stylish and eye-catching lapel pins.
What Is a Lapel, Anyway?
Lapels are the fabric flaps you often spot along the upper sections of coats and blazers. Starting just below the neckline, lapels run down until they meet with a coat's buttons. There are several types of lapel styles that vary in shape: notch, peak, or shawl – so there is something for every style preference.
Types of Lapel Pins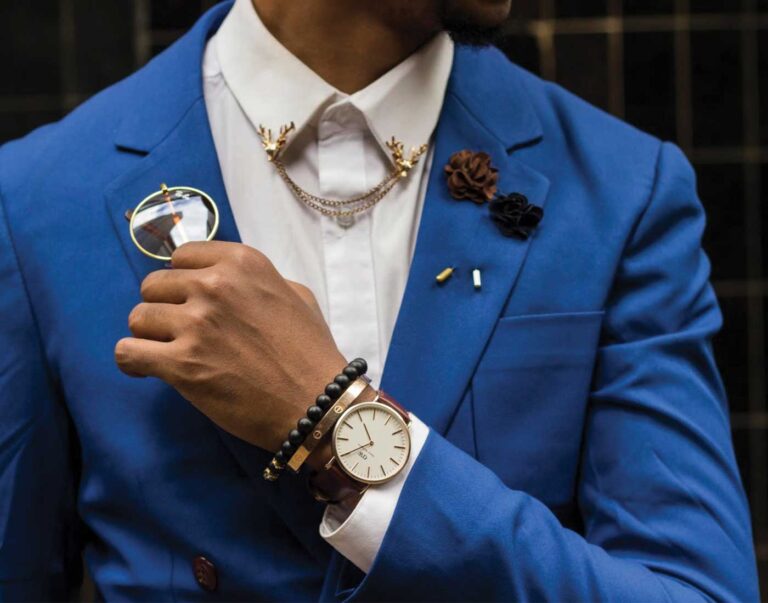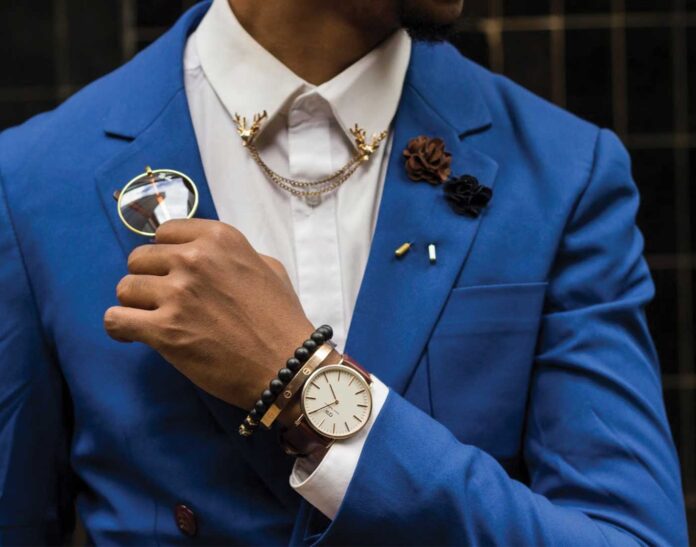 Pins come in various sizes, shapes, and styles that are fastened differently depending on their design. For instance, lapel pins may be displayed proudly as a fashion statement or simply worn for tradition's sake – like the classic floral pin. Whatever your choice is, you can easily craft an image to reflect your personal style with this simple accessory.
Boutonniere
A boutonniere is commonly worn at weddings, and they are also well-known for being the perfect way to add a formal touch to tuxes at black-tie events. For some events, such as prom, boutonnieres may be given to someone as a gift. Boutonnieres are typically a single flower that rests in the lapel's buttonhole. However, they can sometimes have additional elements added to the design, such as greenery or baby's breath.
Flower or Floral
Flower lapel pins are the perfect way to add a touch of flair without overpowering your look. Unlike boutonnieres, these smaller pin accents are crafted with fabric that can be used for multiple occasions. Best of all, they're small enough to combine effortlessly with other accessories like pocket squares for an extra pop of color and style!
Stick
These pins are easily identifiable by their slender, needle-like shape. Commonly, a flower or other motif adorns the exposed end of the pin. Nevertheless, more contemporary styles often feature greater exposure of sticks and fasteners on outside jackets for enhanced visual effects.
Mini Pins and Badges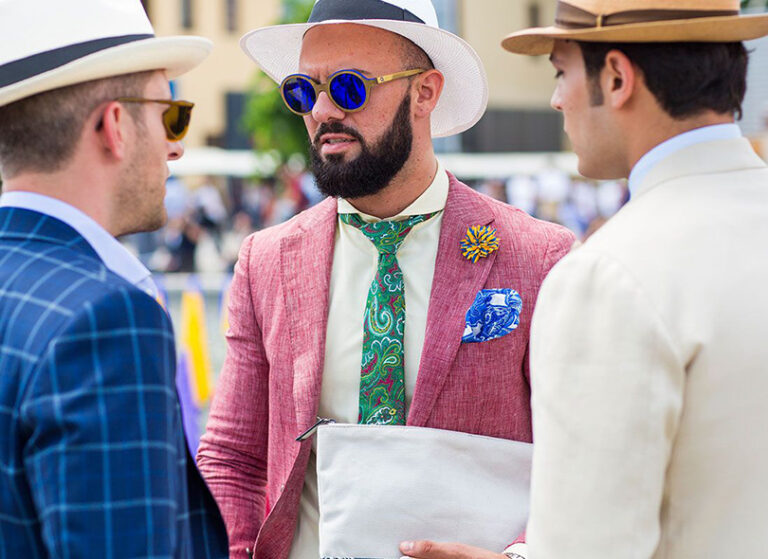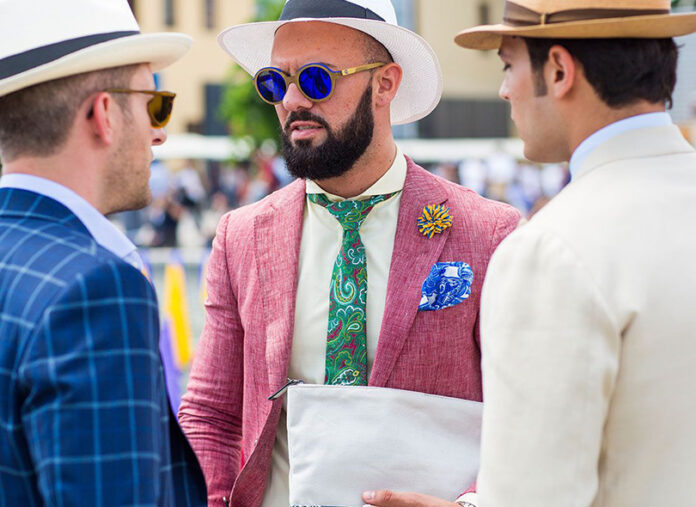 Mini pins have a shorter stem, creating the perfect accessory to add color and flair to your wardrobe. Whether you're looking for metal or plastic material, these small badges provide endless possibilities of design with an array of clasps including magnetic varieties that protect delicate fabric from damage. Let mini pins be the finishing touch that takes your style up a notch.
Brooches
Brooches close with a secure hinged pin that easily secures onto your lapel or buttonhole. These chic accessories are typically more eye-catching than mini pins, often crafted from vintage materials such as buttons and real gemstones to create showstopping pieces.
How to Wear a Flower Lapel Pin
When wearing lapel pins, it's important to adhere to certain protocols – particularly in the case of military honors. With floral pins, you have greater freedom and flexibility; however, there are still a few fashion rules that should be kept in mind when choosing your pin style.
For example, ensure you place them appropriately on your lapel for the best look, and remember which colors create the aesthetic effect you desire. This way, no matter what type of pins you're sporting on any given day – formal or casual – they will make an eye-catching statement while following proper protocol.
Placement
Have you ever noticed a buttonhole on your lapel? Years ago, people used to secure their lapels with buttons for warmth. But this tradition has become outdated over the years and it is now fashionable to leave the buttonhole empty as an homage to those in history who once wore them. In modern times, the opening left by these holes serves as a spot specifically meant for wearing boutonnieres or flower pins!
If there is no buttonhole on your attire, you can simply pin it in that location. To make sure everything looks perfect and professional, ensure to secure the fastener on the left lapel – just where a men's jacket would have its buttonhole! Now comes one of your most important decisions: do you want this accessory to be visible or not? As an additional tip for creating a stylish look with minimal effort; select smaller pins if other embellishments are also part of your outfit.
Choosing a Color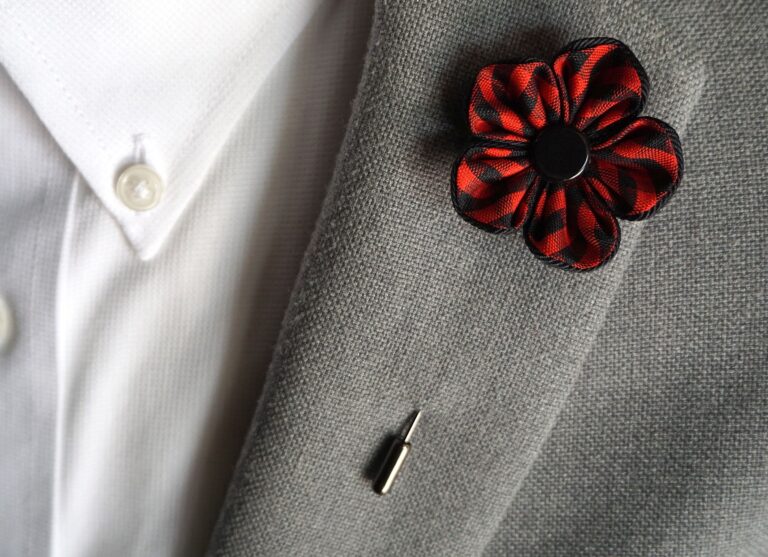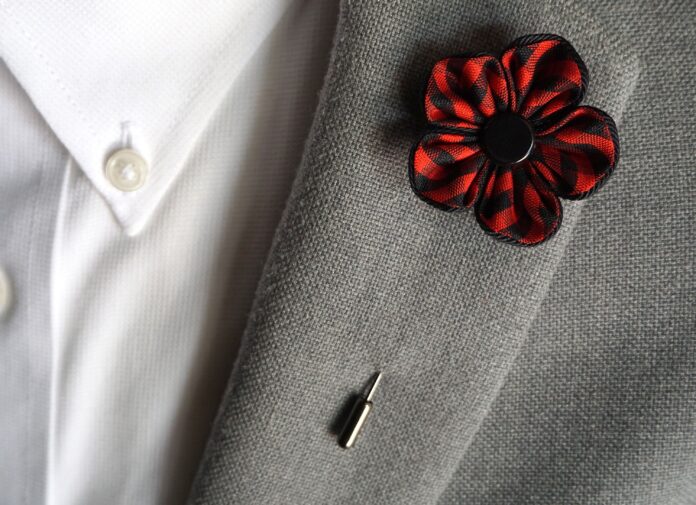 When selecting a color for your neutral jacket, you should consider the other items in your outfit. For formal occasions such as business meetings, matching colors can provide an elegant and sophisticated look. But if you want to give it more flair, then choose contrasting shades instead! If attending with a date or special someone, why not coordinate the floral pin with their apparel? Doing this will make sure that both of you look amazing together.
When to Wear a Flower Lapel Pin
A flower lapel pin is an excellent addition to any outfit, from weddings and special dates to everyday business events. If you're new to wearing these pins, why not try one on your next important event? You'll soon find that they look great with anything and everyone will notice the added effort you put in! Plus – once you get used to them, putting a lapel pin into your ensemble may even become natural for daily wear.
Find the Right Lapel Pin to Match Your Style at CONSTRUCT
Looking to make a statement with your wardrobe? Our exquisite solid-color lapel pins provide the perfect balance between style and sophistication. With an array of vibrant hues, you are sure to find one that will match or just offer the ideal amount of contrast for any outfit. Every pin is made from fine satin fabric with a stain-resistant coating so it looks fresh and new each time you wear it.
From a bold rose quartz bloom to an elegant neutral smokey gray, you'll discover the ideal floral pin that will enable you to stand out in any gathering. Not just that, our pins are also specifically designed with featured colors to match dresses from top brands including Azazie, David's Bridal, and Dessy – so coordinating your attire for an event has never been simpler. Now that you are aware of the ins and outs of wearing floral lapel pins, it's time to select one that reflects your unique fashion sense.