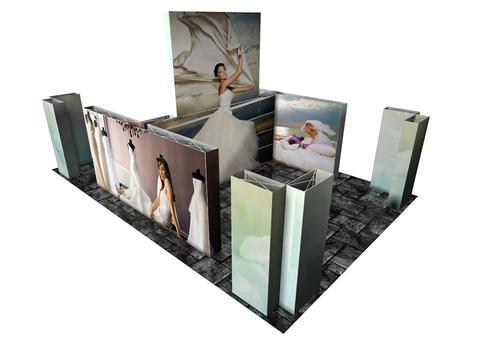 Nowadays, there are many signage options to help you with the promotion of retail stores or even booths outfitting. While other elements are to consider, the final appearance is the most crucial goal with signage works. That is because the main aim of any promotion is to catch the attention of potential clients. For this reason, your choice should stand out and loud in the competitive environment.
Choosing an up-to-date and advanced signage option could be a decent start. And one of the best signage options is the SEG (silicone edge graphics). If you are looking for a modern, seamless, and bold option, silicone edge graphics might be your best option.
Essentially, silicone edge graphics have no frames, designed as one in all pictures. They are usually made out of high-quality photographic material to make sure that your signage stands out. The following article will help you understand the benefits of silicone edge graphics.
Silicone Edge Graphics Working
Generally, designers make SEG graphics using the dye-sublimated technique to make prints on tension fabric. This is a high-resolution method. The display is then edged using a silicon strip which directly sews into the product. Additionally, these graphics use unique thin, flexible frames acting recessed grooves.
To efficiently generate a tight appearance, the fabric used has to be of the correct size. The graphics are usually compressed into the edge's extrusions during production, creating an excellent continuous look.
The final display of silicone edge graphics always stands out compared to other banners and backdrops available in the market.
Why Choose Silicone edge graphics Options?
Typically, when it comes to promotion, either for your business or your services, you would look for something worth it. Choosing Silicone edge graphics will help you stand a better chance of winning clients as it gives out a clear and attractive appearance with a frameless front.
In addition, they are easy to install, with most of the qualities that convention attendees look for. They are the ideal option for events or even trade shows as they are lightweight. Also, you can easily fold the Silicone edge graphics, which makes them easy for transportation with less hassle.
Displays that Incorporate Silicone edge graphics
One advantage of using silicone edge graphics is that they incorporate most of the aluminum extrusion. This is the reason behind the silicon edge graphics versatile feature. With the versatility feature, customers can get any representation that suits their requirements and widens the design options.
Additionally, with SEG graphics, you can incorporate some LED lights to make the display louder. The retail settings can use this option to display their upcoming sale offers and showcase their products. With the dye sublimation technique, customers can have their products incorporated in the Silicone edge graphics display.
Silicone Edge Graphics Benefits
Below are some of the silicone edge graphics benefits you would enjoy.
1. High Quality
Be sure of high-quality printing and images when you choose to use Silicone edge graphics for your display. The dye sublimation method helps in ensuring that customers love the end product.
2. Seamless Finish
With SEG graphics, customers can achieve a seamless display finish. Using fabrics instead of conventional hardboard graphics makes the final display vivid and quality resolution without borders or seams.
3. Easy to Transport
With the easy-to-fold feature, silicone edge graphics can be quickly and safely transported. Also, having less weight makes them easy for transport.
4. Easy and Quick Setup
As mentioned earlier, silicone edge graphics are lightweight and easy to install.
5. Versatility
Following the purchase of your framework, customers can easily change their graphics. That means that you only need to create another fabric graphic to fit into your already bought frame.
6. Less Visible Frame
With silicon edge, seamless graphics tend to stand out with less frame visibility.
7. No Glare
Are you looking for the best backdrops or media walls options? If so, SEG graphics is your perfect option, especially for filming and photography.
Conclusion
In the modern world, silicone edge graphics are the signage option that every customer is looking for. Most people usually love the final silicone edge graphics display with detailed quality pictures of their products and services. 
If you seek a quality presentation with a bold look and seamless imagery, then be sure to invest in silicone edge graphics. Choose silicone edge graphics to assist you in reaching more clients while creating a tremendous modern display.