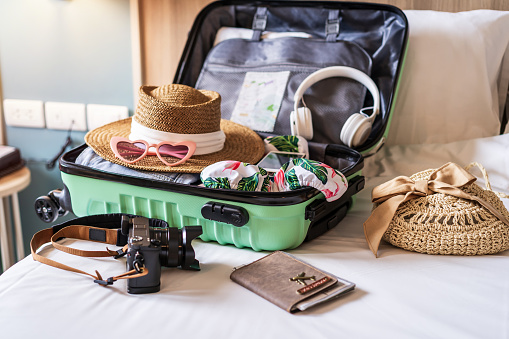 Introduction
There are very few people in this world who do not like to travel. Generally, every human being is eager to get out and explore unseen places. This occurs as we all have the inborn instinct to travel and explore. 
In the present era, people of all ages travel to different places due to convenient means of transportation. However, you would always find youngsters travelling more frequently than the elderly.
The ongoing pandemic has majorly restricted people from going places. However, in the past few months, situations have improved a lot. So, if you are planning to travel any soon, this article can help you a lot. 
This article can learn about the top five accessories that you must carry while travelling. Take a look at the list below:
Top five accessories to carry when travelling
Well, the choice of travelling accessories would vary man-to-man. However, you can read about crucial ones that you should never miss carrying.
Power Bank
Nowadays, most people carry multiple electronic devices while they set out for a trip. As a result, the power bank has become a vital accessory to carry during a journey. Therefore, always keep a power bank fully charged up in your backpack. 
Power banks can provide battery backup to smartphones, tablets, and laptops. The only thing you would need is a proper USB wire. These items are well available in the market and on e-commerce platforms. While purchasing, you need to check features like power output and storage capacity. 
Often, you can get power banks that come with multiple USB ports torch lights. These items are costlier than the normal ones, but you can still purchase them. However, make sure to check the brand and warranty before purchasing them. 
Electronics Organizer
Electronic organizers can be your best friend while on a trip if you are a video blogger or a photographer. Adventure trippers, bikers, and mountaineers also consider this a crucial accessory to carry on a trip.
Electronic organizers come in different shapes and sizes, and brands. These commodities enhance perfect storage for DSLR cameras, sports cameras, laptops, and tablets. You can even store the chargers, USB cables, and batteries in an electronic organizer. 
When purchasing one, you should keep in mind the things you need to store in it. Moreover, you can use your DSLR camera kit as an electronic organizer if there is enough space. The best fact about these commodities is their compact design and portability. You can either keep it in your baggage or carry it with you easily.
If you are buying an electronic organizer for your next trip, check if it has multiple zipped compartments and storage loops. Finally, you can choose an item of a proper brand to ensure durability. 
Daypack
Daypacks are the best for travelers who are into day tours. It also serves the best who travel solo. Daypacks are compact backpacks that you can take for a short trip. The main benefit of a daypack is keeping many little things in it. Consider keeping your smartphone, camera, wallet, and even snacks in it. 
These bags come with several internal zipped pockets and are water-resistant. So, if you are planning for a bicycle trip for a day, this can be the right accessory to take.
Always take note of the brand and the cost when purchasing a daypack. Whether you buy it from the market or an e-commerce store, there are exciting discounts on it. As a frequent traveler, you should always choose an expensive daypack as it can be amazingly durable. Moreover, these bags come with decent warranty periods.
Other things to check in a daypack are the quality of zips, the number of pockets, space, and padded straps. There are several designer daypacks present in the market. Even some daypack brands provide you with a chance to customize your piece. 
Check Best Outdoor Basketball Shoes
Quite remarkably, many people tend to take the daypacks on longer trips. This is because it does not only help them to carry more belongings but the convenience to get out on a sightseeing trip.
Nowadays, you can get many combos offers for daypacks. For example, some brands include collapsible water bottles along with the bag. Always try to grab such an offer as it can lead you to save a lot of money. 
Money belt
Money belts are commodities that all modern travelers should have. You can purchase a money belt for your next trip at a reasonable price. In addition, you can use a money belt instead of your normal belt and enjoy its storage benefits. 
Each money belt comes with multiple zipped compartments to keep your money and cards. This allows you to avoid unfortunate incidents of pickpockets. Moreover, a designer money belt enhances your traveler outlook. 
So, consider carrying a money belt before you set out for a trip next time. Generally, branded money belts are more expensive than the normal ones, but you can count upon their durability. Consider returning a money belt if there is any physical drawback.
Travel Hairdryer
Many travelers find it weird to carry hairdryers on trips. However, it can serve with a few outstanding benefits. You should take a travel hair dryer for your trip to the mountains. Generally, the temperature in the hill stations remains low, and it can frequently rain at times. In such scenarios, travel hair dryers can help you dry your clothes and shoes. Moreover, you can always use them to dry your hair anytime. 
Final Words
It is obvious that you only know the most important things necessary to carry on a trip. However, you can consider taking the accessories mentioned here. As a traveler, you should never forget that the needful accessories might change for every trip. It solely depends on the destination and duration of your tour.