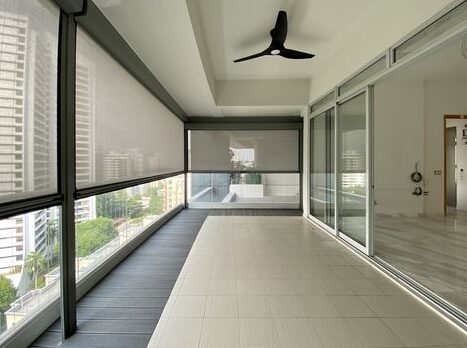 If you are looking for the best outdoor patio blinds to allocate additional space to the house, you might have come across various options. However, most of them are in the same old style and designs that have limited mechanisms.
So, what should one do? With the option of Ziptrak in the market, you don't have to worry about these problems anymore. Along with being easy to operate, they are durable as well.
In this article, we have listed down seven reasons that make Ziptrak a perfect choice to install outside.
Sealed Protection
People failed to feel safe with previous blinds, as there were gaps on the left and right sides. However, with Ziptrak outdoor blinds, you can connect them on the sides, which provides you with a completely sealed area.
Hence, they are ideal to protect your furniture and space from harsh weather while offering the desired safety.
Easy to Operate
The Ziptrak blinds are known among people for their easy to use and simple to operate hand feature. Also, this is what makes it stand out from its other competitors. If you are interested to get one for your outdoor space, check the collection at Outdoor Blinds Perth.
Secure in Single Spot
The Ziptrak blind can withstand strong winds. Therefore, you do not have to worry about the rattling of the blind. You can easily lock the blind at the bottom, and it will be safe.
Furthermore, even if you decide to get the Ziptrak for the indoors, it will not rattle even if it is partly closed over an opened window.
No Ropes & Cords
The outdoor shades with ropes or cranks are time-consuming and hard to operate. Luckily, with Ziptrak, it won't be a problem anymore.
Furthermore, in addition to the frustrating use, the rope-operated blinds also are visually unappealing and hold a potential threat. In comparison to this, Ziptrak is safe and simple to use.
Adds Extra Space
If you like to host parties or invite guests over to your house, then it is most likely you worry about accommodating them inside. In this case, Ziptrak blind is a perfect solution. It can cover your patio completely while increasing the space in the indoor area.
Along with providing extra space, it also enhances the beauty of the house. Moreover, you can easily retract them, once your event is over.
Affordable
As compared to the glass separations, the Ziptrak blinds are available at a much affordable price in Perth. Plus, you can roll them any time you want to enjoy the outside view.
And, if you choose an appealing design and colour, it can be part of the exterior décor along with providing protection and privacy at a reasonable price.
Offers Protection against Harsh Weather
Are you worried about insects, dirt, and debris entering the house? Yet, you don't want to cover up the view? Then, Ziptrak is the best option to consider. They blend in easily with the décor of the house while providing the required safety as well.
These are some of the reasons why we recommend Ziptrak as the best option for outdoor patio blinds. They offer you the security, privacy, and extra space that you need while keeping the price within your budget.
Read more interesting articles at https://theomegacode.com